Server that we made to facilitate the download of attendance data in many branch offices only use the Serial Number Machine absences alone and without Need Internet with Public IP connection.
Due to limitations of Internet Connection with Public IP today, thus making the company a lot of difficulty in doing withdrawal of attendance data in realtime and centralized than many of their branch offices. Therefore we provide a special server which can be used to be an intermediary in facilitating the withdrawal of attendance data at their branch office only by using Serial Number Machine or need Internet connection with a Public IP in the Head Office and Branch Office.
How it works is similar to the ADMS Server server, where we just enter the URL or IP of the server that we have provided, Then the machine will connect to the server automatically by itself and all the attendance data will be sent by the machine to the server in realtime. and If the branch office Internet connections are disrupted, often drop out or do not always online, no need to worry also because at the moment Online internet back unsent attendance data can be sent back automatically.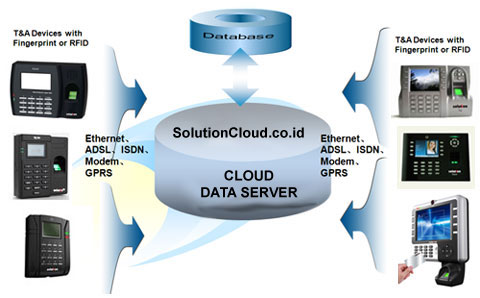 For More Information, Please Visit:
www.SolutionCloud.co.id