Attendance System which we built for maximizing employee's workhour and preventing employees for doing attendance cheating.. Solution Fingerprint has been tested and it is proven for its effectivity because it is using the best world fingerprint sensor. Solution Fingerprint is a Low Price Solution and nice for replacing the old traditional system, even replacing your previous Fingerprint System.
SPESIFICATION
U.are.U 4500 Hardware
With detailed data :
1. Hardware Photo: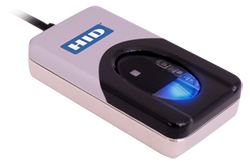 2. Brand : HID (Digital Persona)
3. Type : U.are.U 4500
4. Features :
PC Based, Need computer when operate
User Capacity : Unlimited
Log transaction capacity : Unlimited
PC Communication Type : USB Cable
Response Time : <= 1 seconds
Matching Type : 1:1 and 1:N
SOFTWARE INCLUDE, Attendance logs can be downloaded to PC, so you can print any kind of attenandce reports, and also can be used for calculating your employees' salary calculation based on your company's need.
U.are.U 4500 Software + Payroll
With features :
1. Employees management
2. Shifts/schedules management (Support multi-shift for factory)
3. Calculation for Late, Leave Early, Overtime, and workhour total.
4. Facility for input: Sick, asking for leave, etc. Also attendance correction.
5. Calculation Report period can be calculated freely from daily to monthly, detailed report, and summary report.
6. Calculation For Salary and formula, also can print employees salary receipt directly.
7. Facility for Customize Report Structure, Data Export, etc.
8. Log monitoring can be done by Real Time.
9. We also provide Free SDK (Software Development Kit), manual and source code samples for further application development.
What's the Benefit?
The benefit of this system:
Accurate attendance system
Avoiding cheats, such as : leave Early, Attendance borrowing, Etc.
Maximizing Company's Performance by optimalizing Employees' Work Hour
Increasing Calculation productivity and automatic reporting.
Making Human Resources (HR) at ease
Why Using Solution Fingerprint? What's the benefit/differences?
Our benefits/differences which others may not have :
Using Digital Persona Sensor

Not all sensor can read well, it usually read certain fingerprint, and can not read certain fingerprints, therefore use only fingerprint from Digital Persona, because it has been proved able to read well many kinds of fingerprint and has got many world's award.

High Security during Attendance

On other's product, during its attendance time, employee can cheat by forwarding/backwarding time on computer, that made he/she never be late, able to leave early, even doing attendance for the tomorrow day, or even making one year attendance done only on one day, which making your products goes to waste. BUT, our products has been equipped with HIGH Security, that lock all screen during attendance, so they would never be able to cheat on you again.

Unlimited Employees

On other products, you may found that system can only saving 20-100 user. BUT, you will find our products have an Unlimited User Capacity

Compatible with ALL Windows' Operating System

There are several of other product that can be installed only at certain operating system. Some may only be able to installed at Windows XP 1, but cannot be installed at Windows XP 2, Etc. But, our products are able to installed at all kind of version, even at Windows 98.
Computer Specification Requirements:
Pentium 200Mhz or more (for Scanning System by typing Employees' ID)
Pentium III 600Mhz or more (for Scanning System without typing Employees' ID)
Memori 64 MB or more
1 USB port available
Operating System Windows XP, 2000, ME, 98, NT 4.0, and windows server 2000, 2003.